The Personal Insurance
Details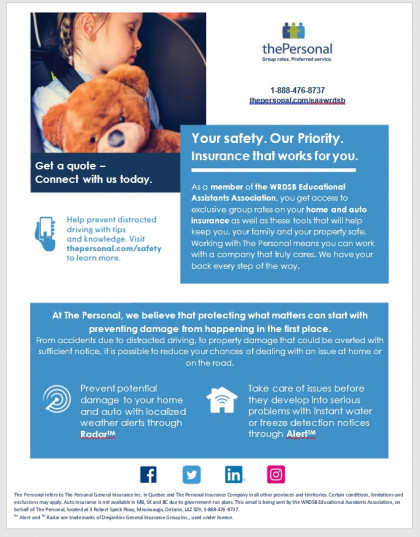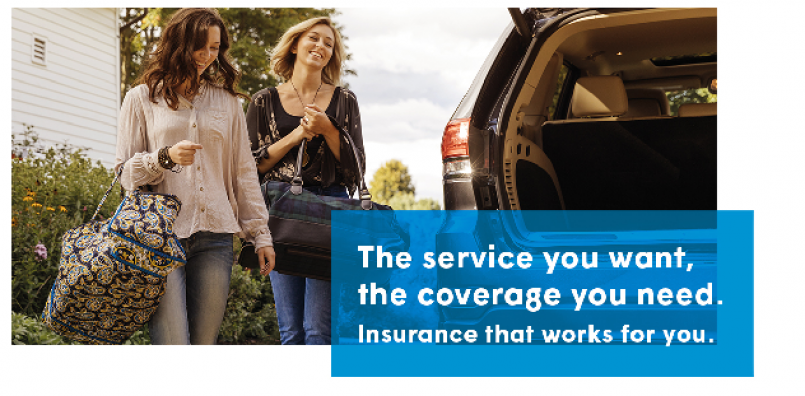 The service you want, the coverage you need.
Insurance that works for you.
It's time you felt confident about your home and auto insurance. As a member of the WRDSB Educational Assistants Association, you get access to exclusive group rates from The Personal, and a seamless experience every step of the way – from getting a quote to making a claim.
As one of Canada's leading group insurers, with the trust of 700+ organizations who have partnered with us, we're committed to making insurance as straightforward and affordable as possible.
Auto Insurance
An easy road to savings
Conviction-Free: Save up to 15%
Multi-Vehicle:1 Save up to 15% on each car's premium when you insure two or more cars
Home Insurance
Because it's more than just the place you live
All-Risk Insurance: Your home and the things inside are covered against fire, theft, vandalism and certain types of water damage
Claims-Free: Save up to 20%
Security System:2 Save up to 20%
With you, whenever you need us
As a client, manage your policy or file a claim, anytime, anywhere with Online Services, and you could get the most out of your insurance with The Personal App
AlertTM: Get an alert if water or freeze is detected in your home
RadarTM weather alerts: Get an alert if there's a hailstorm, windstorm or other major weather system that could damage your property
Get a quote and see what The Personal can do for you.
1-888-476-8737
The Personal refers to The Personal Insurance Company. Certain conditions, limitations and exclusions may apply. Savings and discounts are subject to eligibility conditions and may vary by jurisdiction. Rates and discounts are subject to change without notice. The terms and conditions of the coverages described are set out in the insurance policy, which always prevails. Auto insurance is not available in MB, SK and BC due to government-run plans.
1 Up to 15% in NB, AB and the territories; up to 10% in NS, PE and NF; up to 7.5% in ON.
2 You could save up to 20% if your home has a monitored fire alarm, burglar alarm and automatic sprinkler system.
TM Radar and TM Alert are trademarks of Desjardins General Insurance Group Inc., used under license.